Exceptional Christian Romance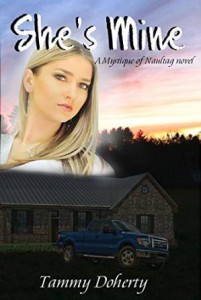 Today's exceptional Christian romance has the perfect blend of mystery and suspense. Don't miss our feature post, She's Mine: A Mystique of Naultag novel by Tammy Doherty.

With menacing notes left on her door, Caitlin Harrington fears ex-boyfriend, Adam, is stalking her. Sean Taggart isn't too sure about Caitlin's sanity. When he learns the truth, he wants to help, putting his life in danger. And can he save Caitlin before the stalker turns to murder?
"The story careens through a series of unexpected plot twists and turns which kept me on my toes." ~ Ken Winters
"A wonderful Christian romance with mystery and suspense to make it more interesting" ~ B.J.Robinson
"Wonderful romance that evolves slowly yet believable chemistry and real life issues." ~ Lisa Belcastro