Enjoyable Christmas Novella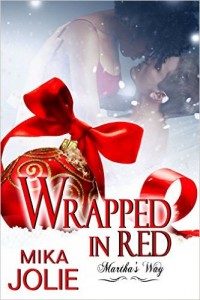 Christmas is a time to be merry and bright. For Minka Montgomery, it's anything but… Today's NEW Romance is, Wrapped in Red: Martha's Way by Mika Jolie.

As Minka's anxiety level rises, can she share what's in her heart with her husband? Is there a branch of hope to hold on to? With Christmas only twelve days away, can she find her Christmas spirit and rediscover the true meaning of the season?
"This story shows us we don't have to be afraid what others think or embarrassed about PPSD nor do we have to be afraid to seek help. Opening up to the ones we love and the ones that loves us is the first step to healing." -Romance Reader
"WRAPPED IN RED is an enjoyable holiday quick fix read and a great bonus to the MARTHA'S WAY series!" –Amazon Reader
"This book shines a light on what many New mothers go through. This is a great read. I really enjoyed this story. Love Minka and Jason." –Reader