Cozy Romance will Keep you Warm
Snuggle up with a cozy romance. Today's feature book is, Winter Interlude (California Series) by Sandy Loyd. It currently boasts a 4.3 star rating with 40 reviews. Reviewer, Tina Hayes says, "Sandy Loyd's "Winter Interlude" is a romance novel that makes a great weekend read. I definitely want to check out more of Sandy Loyd's novels."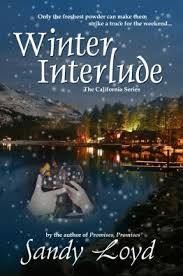 A Little About Winter Interlude:
Winter Interlude tells the story of one couple's adventure – of how they finally find love. Kate and Paul's story is the first one in a series of four friends caught in a time warp. They can't move on because they are stuck on their idea of their perfect dreams. But sometimes life works in mysterious ways and they are all forced by circumstances to change.
About the Author:
Sandy Loyd is a Western girl through and through. Born and raised in Salt Lake City, she's worked and lived in some fabulous places in the US, including South Florida. She now resides in Kentucky and writes full time. Sandy recently published her first Romantic Suspense novel, The Sin Factor. She has since published two more, both set in fictional towns in Kentucky to give a reader a feel for small town living. Running Out Of Fear's setting showcases the state's caves and lakes. All have heart-stopping suspense and are full of the twists and turns she loves.
What Readers Are Saying About Winter Interlude:
"Winter Interlude is a great story with lots of unexpected twists – and the scenery descriptions will take you straight to the Tahoe ski slopes!" ~Leslie Lynch
"This book has all the romance and excitement one could expect from a great romance. Sandy Loyd really has a way with characters and when these two come together sparks fly and the scenery is amazing." ~M. Antry
Must-read cozy romance. Grab your copy of Winter Interlude today.