Monthly Archives:
June 2013
Is it too late to have what they've both longed for? Take a look at Virginia Nelson's novel and our feature book Dom of the Dead. "…an epic story that deals with heart breaking loss, and makes you face the fact that you have to make the most of the time you have." –Asher Ray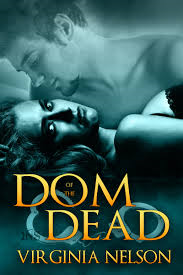 A Little About Dom of the Dead:
After Carson Black's longtime crush and best friend, Randall Stokes, dies in a motorcycle accident, she openly weeps at his funeral. In the ensuing days and weeks of inconsolable grief, she hears his voice, smells his scent, feels his desires. She must be going mad. Is it too late to have what they've both longed for?
About the Author:
Virginia Nelson's paranormal series began with Odd Stuff, the second book to that series is Siren's Song. A short story between the second and third book is currently in the works as well as (two chapters from completion at the time of this posting) the third of the series, titled Odd Fate. Other works in progress are Blood and Bones, a young adult paranormal fantasy and Necro an adult urban fantasy. She is also in progress on a contemporary piece at this time aside from continuing the Odd Stuff Series. You can connect with Virginia on multiple social networks: http://www.facebook.com/virg.nelson http://www.twitter.com/virg_nelson http://www.myspace.com/virg_nelson
What Fans Are Saying About Dom of the Dead:
"It's a fast sexy read, that I can definitely see myself re-reading as a kind of quick comfort read." –Sheri V.
"What would you do if you got that second chance? Our hero and heroine find out what they missed. Love the hot sex scenes. A quick read and enjoyable." –Mary Roya
"Ms. Nelson had me weeping in under five minutes and fanning myself five minutes later. Highest recommendation…" –Rebecca Grimaldi
Make sure to pick up your sizzling copy of Dom of the Dead today.

« Previous Page
—
Next Page »